Photography is constantly evolving. From analog film to digital. From smartphones and HDR technology, to drones, 3D cameras, virtual reality and more.
Some of the advances are fantastic and have a place among professional photography. Others are a gimmick and will most likely fade away.
Today, I want to take a quick look at Matterport 3D cameras. What are they all about and what is the best way to utilize the service?
Note: If you want to cut right to the chase and book a Matterport 3D virtual tour, professional photography, or video services, just contact me here: Darren Loveland, (707) 363 – 2489 or DarrenLoveland@gmail.com
In short, Matterport 3D cameras are a large format camera (about the size of a small guitar amplifier or a large lunch pale) equipped with several camera lenses, pointing in a wide array of directions.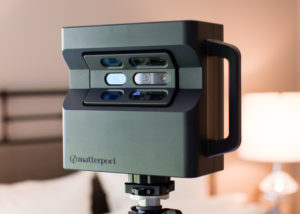 Photo credit: www.matterport.com
The Matterport camera is mounted on a tri-pod and controlled entirely by a tablet application (iPad). The primary function consists of the camera rotation 360 degrees on it's axis, relatively slow, all the while scanning and photographing the room.
A standard size living room requires about 3-5 placements of the camera with a full scan. For example, you might walk in to the room, place the camera at the entrance and scan. After the first scan, you pick up the camera and re-locate it to the next corner of the room, and scan. Rinse and repeat a few times until the entire room is scanned thoroughly. The application shows a real time example of the scanning progress so that you know what parts of the room need more coverage.
Additionally, you can flag areas that might be troublesome, such as a mirror (causing the camera to think it's an extension of the room) or a window, and the technology is sophisticated enough to compensate appropriately (pretty neat eh?)
The finished product creates a virtual walk-through tour of the interior of the property. Imagine a Google Earth format or Google Maps street view, of the inside of a house. It's basically the same thing. You can see some examples of pretty cool tours here: https://matterport.com/gallery/
While the quality of the 3D tour is nice and polished, it is NOWHERE near the quality of professional photography or HD video. It's simply a different type of tool in the shed, not a format to replace photography/video.
Now, as a broker, real estate agent, vacation property owner/manager, interior designer/stager, how does this new technology apply?
News flash, it's unique and has a place, but it's NOT for everyone. Not even for every real estate listing.
I'll give a quick run down.
Interior design, staging, custom builders/contractors – this application is not for you. This technology highlights the ability to view a property that you otherwise would not be able to view. However, high quality photography is second to none for aesthetics and capturing a beautiful room, interior design, or custom work. This is a 3D scan for navigating an interior.
Vacation properties – this is a great tool, if your property is the real deal. It gives potential viewers the ability to walk through your property and realize the greatness that is your special little slice of heaven in vacationland. It also helps set you a part from competition.
Commercial real estate/brokers – this can be a great tool to navigate office space, warehouses, retail space, etc. Anything with large space that you may find difficult to convey in traditional photography, this tool is for you.
Residential real estate agents/brokers – this tool is great for empty properties or properties that might be off the beaten path. You can show off space and give viewers the potential of navigating a freshly painted and carpeted, turn key property.
If the property is occupied, furnished, or cluttered, it could be a major turn off to show this in three-dimensional space, and it could easily lead viewers to continue swiping for another property on Zillow, instead of your listing. However, if the property has difficulty earning foot traffic, this is a nice tool to show an interior if it has good space or a really nice layout. Think about that listing 20 minutes down the country road, way up a 15 minute hill drive, out near the coast, etc.
Additionally, this service is a nice way to sway a potential listing in your favor during a presentation to homeowner. Every good agent is pitching their experience in the market, their community involvement, and the support from their big time brokerage. But services like professional photography, drone photography/video, and Matterport 3D tours might set you a part from the next agent the homeowner is interviewing after you.
Re-cap: your every day residential neighborhood listing will benefit from using Matterport if it's empty, fresh, and turnkey. Otherwise, stick to just professional photography and let your personal sales tactics do the work in person. Break out the 3D tour reference if you need an ace in the sleeve to sway a potential seller during a listing presentation.
One underlying factor: using Matterport can create an idea of "I've already seen this property" from a potential buyer. Make sure that if you use this service, it's for a property that will entice the viewer to come see it anyways. E.g. the unique layout, interesting location, the clean/empty/turnkey property. The major drawback can be losing a potential buyer because they never visited the property and you lost a chance to sell them on it's highlights, that maybe they overlooked in the 3d virtual tour.
Like many marketing services, Matterport 3D virtual tours have a place and a great application, use it appropriately.
With that being said (shameless service plug here) – professional real estate photography is an absolute must for every listing. Condo's, single family homes, luxury estates, everything across the board can benefit from sharp, professional photos. I shoot 300+ homes every year and I would love to earn your business.
Contact me at:
Darren Loveland

(707) 363 – 2489

DarrenLoveland@gmail.com
My turnaround time is fast, I'm experienced with the industry, great with homeowners, and I love what I do!
Cheers,
Darren